By Grant Fleming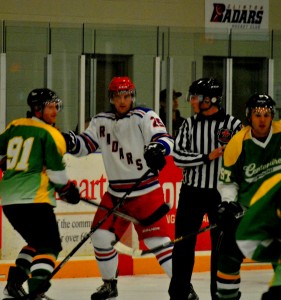 BREAKING NEWS
Stratford, Ontario — The woman who alleges that a junior hockey player sexually assaulted her is going back to court. Her father confirmed her decision in an email this morning:
"The case is not done yet. Our daughter has made the decision to go back to court again. [The] Crown says [the trial] probably will not get court time until next year."
(A publication ban protects the identity of the woman and her family.)
In October, 2014, Mitchell Vandergunst, then 20 years old and an assistant captain for the Stratford Cullitons junior team, was found guilty of two counts of sexually assaulting the woman. (A third count of sexual assault was dismissed by the trial judge.) The incidents took place in South Huron (Ontario), in July 2013. He received a one-year jail sentence plus two years' probation.
Last month, the Ontario Superior Court overturned Mr. Vandergunst's convictions and ordered a new trial. The appeals judge, Alissa Mitchell, ruled that there were inconsistencies with the woman's testimony on the witness stand.
The three sexual assault charges against Mr. Vandergunst remain in place. The Crown Prosecutor's office in Goderich, where Vandergunst's new trial would be held, declined to comment on his case. The communications office for the Attorney General of Ontario did not return a phone call.
Mr. Vandergunst was at the centre of a scandal that rocked Stratford, a small city (population 32,000) 150 kilometers west of Toronto that is best known for its annual Shakespeare Festival as well as for being the hometown of Justin Bieber. Other prominent Canadians, including Sheldon Kennedy, called out the team's board and management for making the scandal worse by "sweeping it under the carpet." The head of a local women's shelter raised serious concerns, too.
The day he was convicted, in October 2014, Mr. Vandergunst was released on bail and returned to play for his team. Board directors for the Cullitons, including the club's president at the time, Dan Mathieson, denied knowing that they had a convicted rapist in their midst.
Mr. Vandergunst, who did not violate any of his bail conditions by playing hockey, was kicked off the team four months later, in February 2015, but only after the parents of the woman complained to the media. Mr. Mathieson then hired a private eye firm, to which he and other board members, including Stratford's ex-chief of police, have close ties. The investigation, which some critics described as a sham, exonerated all club officials.
The Cullitons play in the Ontario Hockey Association. The OHA's president, Karen Phibbs, will not say what penalties, if any, the league levied against the Cullitons.
Mr. Mathieson is also the mayor of Stratford. He was running for re-election at the time of Mr. Vandergunst's criminal proceedings. He resigned as the team's president shortly after he released the findings of the team's internal investigation.
Mr. Vandergunst's appeal lawyer, Mark Halfyard, won't comment on a new trial for his client. Reached earlier today, he said, "The matter is before the courts. I haven't had a chance to discuss next steps with my client."
plainspeak@grantfleming.ca
@WGFBruin