Column
By Grant Fleming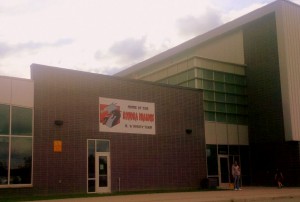 It turns out, you can blame a guy for trying.
Readers of this blog know the story of Mitch Vandergunst: he's the young man who was found guilty, in October 2014, on two counts of sexually assaulting a woman. Despite his heinous crimes, his junior hockey club, the Stratford (Ontario) Cullitons, let him keep playing — for four months. He was finally kicked off the Cullitons in February of this year, but only because the dad of the victim blew the whistle by phoning a local newspaper.
Once the scandal broke, Cullitons' officials, led by a possibly rattled president (who doubles as the city's mayor), scrambled to launch a crisis communications plan that didn't do them any favours (see: private eye investigation).
The upshot: each member of the team's oversized board of directors — apparently, 24 guys and one gal are needed to run a lower-tier junior team — denied knowing that they had a convicted rapist skating circles around them. Check that: the president-mayor said the head coach, Phil Westman, knew. But we were told that Coach Phil kept quiet because, well, you know, rape's awkward to talk about. (Especially when that player is your assistant captain and team enforcer who might prove useful to a team hell-bent on winning a championship.)
Back to Mr. Vandergunst: he had a busy summer. He landed back in court, in late July, to face a charge of breaching his bail conditions. The judge dismissed his case. (Score one for Mitch.)
From the courtroom to the rink, all over again
In August, Mr. Vandergunst was back to looking for a new team. Nothing illegal about that, I was told by his lawyer, David Reid. He`s allowed to keep busy while he awaits his appeal, set for late November. But in this case, senior team officials for the team in question say Mr. Vandergunst didn`t disclose his crimes to them — not that he was obligated to do so.
This latest development occurred when I received a tip from a league coach who tweeted, "Rumour has it Mitch is trying out for the Komoka Dragons." My first thought was, Japan is a long way to go to play hockey. But Google to the rescue.
Komoka (Ontario) is a 15-minute drive west of London (and 35 minutes from Mr. Vandergunst's home in Exeter). The Dragons play in the Greater Metro Hockey League. I won't trouble readers with links to the team and league websites (you're welcome).
(Fun fact #1: The tall foreheads at Hockey Canada call the GMHL a sideshow league. That is, when they're not calling it an outlaw league.)
I phoned Bob Bernstein, the president of the Dragons. He confirmed that Mr. Vandergunst was expected at the team's training camp that weekend.
Mr. Bernstein told me he knew Vandergunst was a convicted sex offender, but did not get the information from Mr. Vandergunst. He asked, "Doesn't he deserve a second chance?" I asked him what he meant by that. He got shirty ("I find some of your questions offensive").
(Fun fact # 2: Mr. Bernstein once coached women's hockey. Here's a flattering profile of Bob. Heck, while we're at it, let's throw one in for the prez-mayor of Stratford. Hey, I spared you the links to the GMHL and Dragons sites.)
I offered Mr. Bernstein another chance to explain why he'd offered Mr. Vandergunst a shot at making the Dragons. He stumbled. I pointed out that Mr. Vandergunst`s appeal had not yet run its course, and asked if he should have waited until it did. Mr. Bernstein replied, "You're being unfair. He's appealing his case."
And there it was. The Mitch Fan Club was hitting the re-set button. Innocent until proven guilty, all over again.
Mr. Bernstein isn't the only person I've interviewed who thinks that way. A few people have said to me that Mr. Vandergunst might get off, that he deserves the benefit of the doubt. To repeat: Mr. Vandergunst is not breaking any law by playing. But maybe his appeal lawyer, Mark Halfyard, should get those self-appointed experts on the payroll.
Bagged
The Vandergunst story, already tiring and dreary, took another twist.
While surfing the Dragons website (someone had to), I noticed a link to a sponsor called The Bag Lady. When I clicked on it, lo and behold, I discovered that the deli, located in downtown London, raises money — lots of money — for a women's shelter.
(Um, Mitch? I think your short winning streak's about to come to an end.)
I called the deli owner, Jane Beattie. Once I asked her about Mr. Vandergunst, she was off the phone with me and on the horn with Mr. Bernstein to tell him she didn't want to be associated with his team.
Later that same day, I heard from the team's general manager, Mike Fish. He was angry that I'd talked with Ms. Beattie. It took him a few minutes to settle down. He admitted that he knew about Mr. Vandergunst's status as a sex offender, but only learned about it by doing some online research after Mr. Vandergunst contacted him earlier in the summer. I asked Mr. Fish, "Now that the cat's out of the bag, what's your next step." He said he'd withdraw his invitation to Mr. Vandergunst.
Mr. Fish kept his word. In mid-September, I went to the Dragons home opener. Mr. Vandergunst was nowhere to be found. Meanwhile, the tweeting tipster coach is keeping his ear to the ground, in case Mr. Vandergunst tries to hook up with another team.
The exiled coach
Phil Westman, the disgraced ex-coach of the Stratford Cullitons, is in a "good place" these days. That's according to a friend of his. Here's an excerpt from a recent email the friend sent to me:
"A good coach and person was thrown under the bus and still gets looked at differently by those who do not know him, [but he] is healthier than he was due to stress and can now enjoy time with his wonderful family.
"He is not perfect, no one is, but as a person goes he is a good person. There are others [in the Cullitons organization] that used him."
As for Mr. Westman's future as a hockey coach, the friend wrote, "he has turned down many offers." (There are rumours that he'll be scouting for a team that plays in the same league as the Cullitons. If true, that's step one in his rehab and return to a job behind the bench.)
Defiant, not shaken
When I started reporting the Cullitons scandal, a friend observed, "there are no heroes in this story." I would argue that a couple of people have stepped up, but I take her point.
Another friend asked, "Why do we celebrate hockey the way we do in Canada? It's filled with men and boys behaving badly." I understand her frustration. (I'd add that hockey's home to misbehaving women, too.) But when it comes to hockey or any other sport, I think we need keep an eye on things. We know we can't count on at least one mayor (and the boss of an outlaw hockey team) to do the job.
There is a brave young woman at the centre of this mess. The judge who convicted her rapist described her as "an educated, modern woman…not shaken…defiant." She stood up to a bad guy. Sounds like someone to have in your corner.