Welcome to a doubleheader weekend! (Hey, if you can't get your fix of beisbol…)
Ruth Mountain led off with a dispatch from the North Island of New Zealand, where she's pinned down after her flight home to Canada got 86'd last month. Check out our "Distant Dinner" in an earlier posting. (Warning: there's talk of vermin.)
From Mountain to Daisy (a.k.a. "Filly-D"). She's hung out with a few of you, including Blythe Koreen, Trish Thornton, Danny Ponte and Michael MacPherson. When Jacques, Danny and I were in NYC together, Felicia introduced us to her NYC cousin, the lovely Suzs Tempro.
Jacques and I first met Filly-D nine years ago, at a Toronto Blue Jays game. At the time, she worked as a stadium usher. It was one of a bunch of jobs she was juggling. (She pretty much pioneered the side-hustle.) She volunteers, too—a lot: the Black in Canada project; the Institute for Canadian Citizenship; helping me organize a golf tournament to raise money for rectal cancer; and much else.
Felicia is fond of our menagerie. She was one of the first people I thought about when our dog, Pawley, died. Also, we love having her come to Stratford. On one such visit, she and I were walking into Treasures (owned by Jackie Catania) when news came across her phone screen announcing the death of Prince. We paused in front of a purple t-shirt hanging on the door of the gift shop.
Filly-D is the sister Jacques and I were warned about. Lucky us. And lucky me: her responses here are deep, brilliant and beautiful.
Oh, one last thing.
A few years ago I asked Filly-D, "Wanna come camping with us?" She erupted ("HAHAHAHA"). Miffed, I queried: "What?" Head shaking, she said, "You white people."
On to our conversation.
---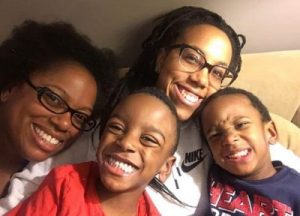 WGF: How are you?
FD: I am alive.
I go in and out of depressing thoughts, hero mentality, positivity and having fun. Wash, rinse, repeat. Therapy, meditation, talking with friends, and forever dancing, get me through the cycle.
We try so hard to create certainty, but life is uncertain.
WGF: You're a downtown Toronto gal. Where are you these days?
FD: I am in Whitby [east of Toronto] with my sister and her two boys. I feel like a teenager!
Also, I've seen MANY white people out here. But it's also less dense, so people aren't cluttering the sidewalks as much as they do in the city.
WGF: I know you love your family. I also know you're a bright-lights-big-city woman. We've hung out together in Toronto and New York City. How are you handling the 'burbs?
FD: I miss being in Toronto where I've lived for years. And I long to be in NYC and travelling the world.
But Whitby is O.K. because I'm with my family. I have the forest, nature walks and the air in my lungs to keep moving.
WGF: How's your family?
FD: My mother, who is 79, is doing well. We speak, laugh, learn about each other almost every day. She is keeping busy cooking, building a 1000-piece puzzle, and going for walks in the back yard. I have challenged her to cook a Trinidadian recipe she has never made.
My sister's business has halted. Her husband, who usually works as a sleep technician at Sick Kids Hospital, has been redeployed to help with Covid-19 testing.
The sister of my brother-in-law is recovering from Covid-19. It was scary for the week she was on a ventilator. His mother is dying from cancer.
There was a nice moment: my sister, nephews and I drove to Mississauga to do a 'social-distancing hello' at the family home. She has the biggest smile when she sees us. And then she quickly called her friends to tell them we came.
WGF: Oh my, these are the Daisy Days. I wonder about your late father. He was a going concern. Just being at his wake that Sunday, five years ago, inspired me. What would he make of all this??
FD: I am thankful that you were able to feel my father's impact.
He was born in 1927. He went through a lot, including a not-so-good-healthcare system. His motto was 'be careful.' It rings true in this moment. He was very diligent at washing his hands and being tidy. There you are, folks: lessons to live by.
I think he may have been saddened that Caribana Toronto Carnival is cancelled. He and many others worked and fought to start it and keep it alive.
I am of the firm belief that something like Caribana, which was the best expression of our culture, lives in all of us. We must adapt to keep it going. My ancestors did keep it alive and I will do the same.
Like my mother and I say, Dad's always around. I carry with me his commitment to the community.
This weekend, Dad would be watching the news and the Catholic channel. Easter was probably his favourite time probably cause he could be in church all the time.
WGF: What about you—what are your worries?
FD: I am worried about many people.
I am worried about those who cannot leave an abusive or fearful situation because they are stuck in a house or hospital without the resources they need.
I worry about those indiscriminately dying from the virus. In Canada's case, the elderly. My Aunt in Montreal has been held up in her seniors home for weeks now.
Black people anywhere are my people, so I don't want them to suffer anymore.
I have also been following how COVID sheds light on migrant workers and indiscriminately forcing refugees out of countries in the name of nationalism.
I have a real attachment to NYC, it is hard to see New Yorkers suffer.
I'm trying to grasp the workings of financial systems and bailouts. For example, when do people need to pay back the government for bailouts?
WGF: What about your work?
FD: I work in the arts industry, more specifically public art and festivals. I have been on temporary layoff for a month. It is not pleasant. I like being productive, being a leader.
I fear that arts and cultural enterprises will not recover, or recover slowly. Usually in the industry it is the minority events and artists, as well as part-time, lower-paid arts workers who suffer the most.
While I am off work, I am concentrating on helping my sister with homeschooling and looking after my two nephews.
It is not easy or fair for parents who have to work, single-parent households and those who have children with disabilities.
I had a revelation the other day at the grocery store: it's the way we throw young people into the fire. Much like wartime. We have to be thankful to the many who are keeping us stocked-up.
WGF: What do your good days look like?
FD: Dancing, mostly to Soca. Music from Trinidad and The Caribbean. They keep me happy. They bring me closer to my roots and a greater appreciation of my ancestors who lived through various, harsh conditions and kept the spiritual vibration of our culture.
Music, in general, has been comforting. I have been listening to various DJ's on IG Live. I've rediscovered that I love music form the 80's. Try it—it's so danceable!
At the beginning of the lockdown, I returned to my favourite subjects in university. History and Political Science. Those two topics definitely help me to process how society, governments and pandemics have changed humans.
I fight the urge to do something heroic or philanthropic. That may not last, but right now I have my fam to think about.
But we've made masks. And I'm keeping people happy with my dance moves.
WGF: What does the other side of all this look like to you?
FD: I do believe that humans will be humans. We'll adapt, die, thrive, celebrate, spew conspiracies, fight, love, protect, act foolishly, procreate, make art, dance. Everything and anything we need to do to live.
I am somewhat concerned about some of the civil liberties that are taken away as a result of tracking those who are infected. Hopefully that information doesn't get into the wrong hands for too long.
I lean more towards love, peace and trying to bring happiness.
WGF: Quick—what words come to your mind when I say 'hey, check out my dance moves'?
FD: White people.
WGF: Ouch. How about 'cottage weekend'?
FD: White people.
WGF: Happy Easter, Filly-D. What's on the menu?
FD: For breakfast, salt cod and bake, which is the West Indian version of unleavened bread. For dinner, turkey.