I laid off my Stratford barber. That was a thousand years ago. I never recalled him.
I took my talented locks to London, Ontario, into a subterranean man cave: Underground Barbershop.
Walking down the steep staircase that day, I hear gunshots and hollering. O.K., that's just a TV, but, man, what's behind the door? I open it. Just what my gut's telling me: bunch of inked dudes. Couple of them are heavies. Definitely not hipster inksters.
The Mann film, "Heat," is cranked up on the giant screen at the far end of the shop (Mario Bartel will approve). DeNiro, Kilmer and Pacino. Bank heist in progress, bullets and shell casings flying.
The next guy I espy: a baby-faced tough, flashing clippers. He gives a curt greeting. I'm a portly, no-tats guy closing in on 60. The fuck am I doing here?
Thirty minutes later, asked and answered. Best cut of my life.
The barber: Jeremy G. The man's got skills.
I miss our sessions. We caught up this morning. Talked about his situation. Not great, but he's a man with a plan. Also, he knows a little bit about guns.
---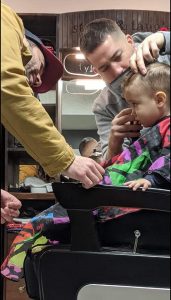 JG: Hey, Grant.
WGF: What's going on?
JG: The family and I are doing pretty well. We've been trying to keep busy outside playing in the yard, doing school work, some movies and crafts and projects. Both boys enjoy their video games, so that's when the missus and I try to find some alone time.
Everyone is in good health and trying to keep a somewhat normal routine to hold our mental health together.
WGF: Two youngsters cooped up. That's like a bad movie. How's that going?
JG: With boys seven and 11 it can be stressful at times, but we also have a new puppy that's four months old to add to things around the house and keep them occupied.
WGF: What was your last day at the shop like?
JG: It feels like a lifetime ago. I do remember my last client. He's a longtime friend of mine named Josh. We had been talking about how things seemed to be moving very fast and the worry had set in amongst the public. I remember the day felt like it flew by and not really feeling like this was going to go on more than the two-week projection.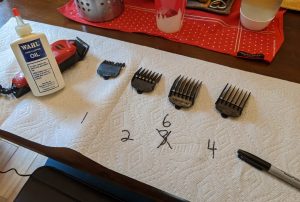 WGF: How did you feel about cutting before everyone went sideways?
JG: To be quite honest, I wasn't very worried about cutting at all in the last few days in the shop. As you know, barbershops have a strict expectation for cleanliness and sanitation. I was disinfecting and wiping down more than usual and reminding clients of everything going on and to be safe.
WGF: Catch any flack for staying open as long as you did?
JG: No. Mostly that was pressure I had put on myself to do the right thing for everyone's safety. I mean, having kids at home and the safety of the clients is always at the forefront of my decision-making.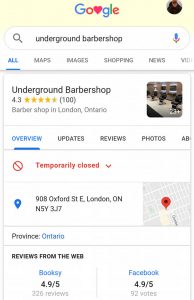 WGF: You just did a big make-over in your shop. New chairs, new mirrors, new paint. Looks great. How do the renos, but no revenue, affect you?
JG: It's been hard at times. My rainy-day fund has been depleted. Mostly all the money I had set aside was spent on doing all the necessary upgrades. Although I'm extremely happy with how things turned out, this has all come at a horrible time for me.
WGF: That's tough, man. What's the plan?
JG: It is quite possible the shop could be closed for a while. I have a few things in the works. I'm working on some tutorials for self-haircuts at home for clients, as well as education and online instructional on learning to cut hair. I've also given a lot of thought to possibly doing gift cards at a discount, as well as raffle for a free year of haircuts.
One thing in my life I've always been able to do is make something out of nothing. This is no different.
WGF: This will end but there might be nerves for awhile. What's the strategy to bring everyone back, but also build up your barbering business?
JG: I have a loyal clientele which I have grown over the years. Being aware of what is going on, and health regulations to come, is also something I've thought about. I've ordered masks and gloves as well as given some thought to face shields, if necessary. I figure if I order them now and have them ready to go, I'll be ready once official word comes from the government.
WGF: You've been barbering since your early teens. You've cut hair out of your mother's house, your house, other shops. What was your worst crisis in the business before the novel coronavirus?
JG: Once I opened my own shop, I was actually robbed at gunpoint and assaulted. That kept me out of work for three months, with no income and a brand new business. I was able to work it out with my landlord and keep the doors open.
There have been a few other speed bumps along the road. I worked at a shop for a few years before I had my oldest son, and my partner and I decided to part ways over differences of opinion on how to run a business. That left me back to square one.
I personally feel these things I've been through have made me a very strong person and I am willing to do whatever it takes to keep the doors open and provide for my family.
WGF: You and I have talked a lot about the rise of "hipster hair curators," as I call them. They're everywhere you look. Do they make it back after The Great Pause, or are they done?
JG: This is a hard question for me. Personally, I do think a lot of people will be able to hold on. I know a lot of the new shops have partners and silent financiers who'll band together to keep the doors open.
However, I do think there are going to be a ton of shops that simply will not make it. Not just because all the months of no income, but just the hardship of trying to run a sole proprietorship and continue to support their household obligations. That will just be too much for some people.
I feel very grateful to have run my shop for 10-plus years and to have a strong relationship with my landlord. People are going to have to get support from the government as well as on a grassroots level of brick and mortar landlords being flexible to allow people to keep their barbershops.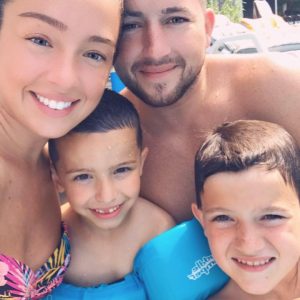 WGF: What about you—any money coming from the government?
JG: I do qualify for the Canada Emergency Response Benefit. 
WGF: Back to barbering. You step onto an elevator. I'm there. You want to convince me to come back to Underground Barber once the crisis ends. You've 10 seconds to make your pitch. Go.
JG: Hey man, how are things ? I hope you have been O.K. during the crisis. We have to reconnect and get the positive energy flowing. You know how great you feel after a nice fresh cut. Pop in when you have some time and let me take care of you.
WGF: Granger for the win! Alright, but let's deal with the current state of the hair nation: I'm shaggy. DIY time? Help a brother.
JG: O.K., it depends on personal grooming tools or clippers you might have. I suggest to most people, 'less is more.' I know some guys have totally gone for the shaved head and let-it-grow-back approach. But I also think just a shaved neck line and tape line, in other words, around the ears and sideburns, can go along way.
WGF: Noted. Let's you and me Zoom up a 'how-to,' soon. Hey, what's for dinner?
JG: Weather permitting, I say BBQ steak, potatoes and salad. One of my classics.
WGF: I'm there. Thanks, man.
JG: Thank you, Grant.