UPDATE: Still stranded, still standing.
Last month, I did a session ("From a Distance: My Dinner with Ruth") with the Stratford resident. She was supposed to fly home on March 25th but, for now, New Zealand it shall be. She's hunkered down on her friends' farm, staying busy.
As she was replying, she saw the news.
"You were sending while I was writing, so i only just now saw about Nova Scotia. Horrible.
Truly.
Ruth checks in with the latest, with a sorrowful ending.
---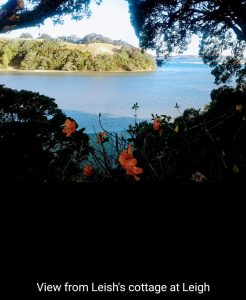 WHEREVER I AM, HERE I AM
"Still no idea about getting home. There is a morning flight to LA once a week or so, but the connections are terrible, so i haven't inquired.
"I'm planning a move to Taradale (Napier, North Island) when we go to level 3, and will hopefully make my way north to Auckland when we go to level 2, two weeks later."
"But we're still at level 4, meaning, the country's still on "high alert" for Covid-19. That alert level goes til Tuesday, April 28th, after the public holiday on the 27th [Remembrance Day for Australian and New Zealand Army Corps, or ANZAC Day].
"So, I've stayed put."
COPS AND COWS
We've just had the police, cause a neighbour complained about my host Gordon's cows on the road. Fair cop, says Gordon.
But it revives the spousal feud (between my two friends): all the grazing goes to support mares and foals, and Gordon is left scrambling feed for the rest of the stock.
THE NUMBERS
[right now: NZ's population: 4.9 million; Covid-19 cases: 1,500; deaths: 13]
"Very limited penetration into the populace. Three things have been key: lockdown (strong compliance), meticulous contact tracing, and testing (not widespread, but apparently enough). That first one—lockdown—was instigated at the first sign of local spread, as opposed to travellers."
INDIGENOUS PEOPLES, THEIR LANDS, COVID-19
"There are no reserves or reservations, per se, in Aotearoa (Maori name for NZ), though there are some areas with basically no pakeha (white people). Those areas have set roadblocks, and been supported by the authorities, in the main. As they are pretty isolated, and generally poverty-stricken, there has been little comment. That said, Tuhoe (Maori iwi, or tribe) closed Waikarimoana, which is the largest national park. Because they have all the park jobs and homes, they were supported in the decision."
THE WINE IS FINE
"NZ's economy has been belted, first by the drought, then this. Farmers were desperately trying to destock, because no feed, and China closed its borders, so no market for meat. The trickle-down of that will be enormous. Now, it's harvest time (apples, kiwifruit, grapes…), and no workers, though I think that's getting sorted. The wine folk will be alright, I expect. As for the rest, your guess is as good as mine."
A NATION TURNS ITS LONELY EYES: How NZ's PM is measuring up
"Criticisms of Prime Minister Jacinda Ardern come not so much from a noisy populace as they do from opposition politicians. They say she's using Covid-19 to get in front of the cameras and campaign. (She faced similar complaints for how she dealt with the aftermath of the Friday Prayers Massacre, in Christchurch, on March 25th, 2019, when a gunman murdered 51 people and wounded 49.)
"There is a real lack of ability, in my opinion, in all the parties that are not part of her government (it is a coalition). I hear nothing from most of the smaller parties, and the National Party leader (Simon Bridges) is a waste of space. I expect Ardern will emerge with a majority in October, especially if the plan to lift lockdown goes as expected."
FOALING AROUND
"The foals have been in the stables with the mares for a time every day for a week, and now they sport head collars. They started getting lead ropes, and led around the stalls a couple days ago, also have had covers on, but not outside yet. They are gently being weaned. I'm not sure of the entire process—I'm learning—but I think they need to be inured to more handling, covers, being led, having mouths and feet played with, before they get separated from their moms.
"We drenched, dehorned, and castrated the calves Easter weekend, and sold the heifers down the road. My friend Gordon and I had a cold, wet, two-hour walk, in a driving rain, to put them in the neighbour's stockyards Easter Monday, but it has really taken a lot of pressure off. Now he only needs to cut grass for five calves, a steer, and a bull. Plus, there is slow grass growth, at last (slow because it's so cold).
"It's easy to be busy here, and very safe, in Covid terms. I did get a black eye from the gelding when I fed him the other night."
CANOE COME HOME WITH ME
"I can't get the canoe I built shipped home during lockdown, so that's saying something.
"Have I answered all your questions? I hope Jacques and you are well.
"And now I'm just having a very emotional reaction to the horror in Nova Scotia."
Love,
Ruth
---
(Here's the conversation we had in March.)
A few of you have met Ruth. She's from Stratford. She's an accomplished carpenter, guitar-maker, gardener and farm hand.
These days, Ruth's stuck down there; she's waiting out the novel coronavirus, in New Zealand, after her March 25th flight home was scuppered. That's O.K.; she's spending time with assorted friends on the North Island.
As she always does, Ruth finds projects. Between assignments, she checked in.
ON CRYPTICS, COPS & KEEPING BUSY
I've finished the crossword book you and Jacques brought home from Scotland, and didn't manage to find another before the lockdown, so i'm having to make do with the online Globe and Mail, and the local, rather than national, paper.
It is truly a lockdown here, to the point that my friend and I got pulled up by a cop on Wednesday, on our way back from the weekly shop. The cop was checking that the load in the SUV wasn't because we were heading to the holiday home for Easter (fines in the thousands).
I've done all kinds of jobs, from electric fences to stair rebuilds, and am not in danger of running out of ways to warm my keep. The windows, for example.
ON COMMINICATION & PUFFY WHITE COATS
If the lockdown is extended, I'm probably going to use my mate's "essential job" designation to move to the Napier/Hastings area [North Island, 320 km northeast of Wellington]. Won't be as much to keep busy with, but the tensions between V. and G. are starting to get me down. Why do people who love each other shut down communication, and why is it always easier to see in the relationships of others, than in one's own?
Winter's coming. Could've done with more winter clothes. My puffy white would be nice.
Oh, and the labs are both coming on heat, so it'll be interesting keeping them locked up. And the foals are about to be weaned; hence, the improved fencing.
On the plus side, the drought has broken, at least here, although the fire ban is still on. There will be one hell of a bonfire here when it's lifted!
ON DUMPS AND RATS
I hear Stratford is re-opening the city dump. Have to. You get vermin, which can only exacerbate the situation. Sadly, here, incineration is the preferred disposal method, which means all kinds of shit you would never dream of burning.
BUT there's been a fire ban for months, which means the mice are everywhere. I cleaned the gutters, and found the corpse of a rat which had obviously taken the bait, and was drinking from the rain trough.
I'm saddened to hear your essential services like milk pick up, pasturisation, and delivery were disrupted. Hope that ball gets picked up, too.
ON THE NEW WORLD ORDER
Seems to me that the banks, stock market, all the trappings of capitalist bull need really forward thinkers NOW. Because it is a brave new world, and to avoid the zombie apocalypse, we need new models. Not that I fear the zombie apocalypse, only hope for elephants, and kiwi, imho.
Po marie (and good morning)!
Ruth