"Sir, you're not supposed to take pictures in here."
The voice issued forth from a corner of the library on the Trinity College campus, in Dublin. It came from a smiling, blindingly blue-eyed gal. I put my camera down, apologised and turned up the charm offensive. She chided me, gently, for my guerilla shooting activities. She made me confess to taking pictures of the Book of Kells. I got off with a scolding. Her radiant aura softened the blow.
Eight years later, Sinead Switzer and I are still on speaking terms. But much has changed (has it ever). She's now a single mother, raising Matthew (6). They're staying home, staying safe. We caught up earlier this week.
(Warning to readers: things get Freudian. Also, lots of book porn. Janet will be cool with that.]
---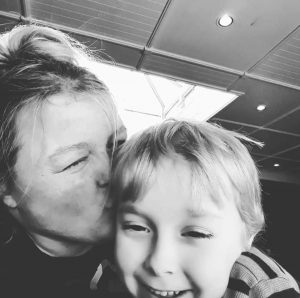 WGF: How are you?
SINEAD: I'm good today. Feeling positive.
Some days I'm so worried about it and the effects on family and friends. Other days I'm calmer. I don't check the news obsessively. I think I'd go crazy. I only check about twice a day. Morning and evening.
To be honest everything feels very surreal. It's like I'm dreaming.
WGF: How's your son?
Matthew is great! He's worked out he has 43 days off school and is quite excited even though I told him we must learn a little while we stay home!
WGF: How well prepared were you for the pandemic?
We have everything we need. We just buy the necessities and I make sure Matthew has his medicine for his bowel.
WGF: Much panic buying and hoarding in your gob of the woods?
SINEAD: You can't get hand sanitizer for love nor money. Some people are hoarding toilet roll! I don't know why! My friend sent me a video of the supermarket when our government announced the schools and some jobs were closing and there was the longest queue I've ever seen of people bulk buying and lots of them had toilet roll!
WGF: How's your own hoarding game?
SINEAD: Apart my Matthew's medicine I got a lot of tinned spaghetti. He loves it! Also chocolate and beer for my own sanity.
WGF: What's going on in your home right now? Who's there?
SINEAD: Life is very quiet right now. We don't really see anybody, but the dog is loving all the extra walks he's getting!
I did a Facetime call with my friends on Saturday night and it was probably the best night "out" I've ever had! Before I knew it, it was 4 a.m. and I had gotten through alot of beer.
WGF: How do you pass the time?
SINEAD: We're listening to classical music. Or the soundtrack from "Frozen." We're reading a lot of our old picture books and he loves Paddington Bear stories. I read for myself when I get a few minutes to spare.
I think if we didn't have music or books I'd lose my mind. Whenever I feel anxious, I find reading to Matthew makes me calmer. Some children's stories are beautifully written and so lovely that it's really soothing!
WGF: What else is going on?
SINEAD: In our neighbourhood things are quiet. One of the biggest differences I've noticed is there is not nearly as many cars driving down our road.
Matthew and I have made pictures we've stuck in our windows of rainbows and love hearts to cheer people up if they're walking by.
WGF: What about beyond your neighbourhood?
We only go down to the town when absolutely necessary for food, medicine or to go to the bank. It's eerily quiet. The pubs are shut. Everywhere is essentially closed.
WGF: Shuttered pubs in Ireland, oh my. I miss my short-lived bartending job there. What are you hearing about that?
SINEAD: My friend works in a hospital and she said the accident and emergency department is the quietest it's ever been. With the pubs being shut there aren't as many alcohol-related injuries!
WGF: What are you noticing about Covid-19 numbers in Ireland?
It's very sad and the number seems to rise every day.
[April 4/20, 11:00 a.m. figures for IRELAND: 120 deaths, 4,273 positive tests, 5 recovered]
WGF: How often do you track the count?
SINEAD: Each evening here the health authority release numbers of infections and deaths so I check that. Unfortunately infection rates here haven't peaked yet. The authorities expect a surge in mid April.
WGF: How do you think Ireland is handling the Covid-19 crisis?
SINEAD: I'm actually really happy with how the government have handled things so far.
In the beginning, they were reluctant to cancel the St Patrick's Day Parade. They did, and schools and pubs shut soon after. Now everything is shut apart from essential services. We are only allowed out within 2 km of home and we can only go out with members of the same household. I think it's the right response and the government acted quicker than some other countries.
WGF: How do you explain all of this to Matthew?
SINEAD: Matthew knows about the virus and that we must stay home. He asks a little and I try to explain as simply as I can. I've told him if he has any questions or worries to ask me. I told him that in years to come he'll be telling his grandkids about it. I think he isn't too worried. Children are brilliant at living in the moment.
WGF: What other activities are you two doing?
SINEAD: Playgrounds are closed, and Matthew and I are avoiding parks or play areas, anyway. We live with my mum who has type 2 diabetes and we don't want her to get sick!
Our days consist of waking up, breakfast, walk our dog, then we do a little school work, eat, play games, do some exercise, walk the dog again, more learning and then dinner. I also do a home enema for Matthew's bowel every night. So we do that before bed and then it's a bedtime story and then sleep!
WGF: Counting your mother, what's it like for all of you?
SINEAD: Being away from my sister is hard! We miss her and my brother in law! I miss seeing my friends but I'm so grateful I have my phone and the internet. Keeping in touch is much easier, nowadays, but I do really miss face-to-face interactions and hugging people. Matthew misses his friends. Being an only child he's missing the company of people his own age!
I miss the school run in the morning. I miss the simplicity of going to do shopping and not worrying about getting sick or making other people sick. I miss grabbing a coffee, taking Matthew to the playground, going to the cinema or library. There was so much I took for granted that I will appreciate at the end of this.
WGF: You mentioned worrying about your mother's diabetes. What other things prey on your mind??
SINEAD: My main worry is my family or friends getting sick. I also worry about Matthew missing school and not having much social interaction but I suppose my abiding worry is this getting worse before it gets better because it's pretty bad now for the world.
WGF: Thanks for your patience answering the questions.
SINEAD: The interview took so long because the boy refuses to go to bed!
WGF: What do you really think of the Book of Kells?
SINEAD: Don't get me started on the Book of Kells.