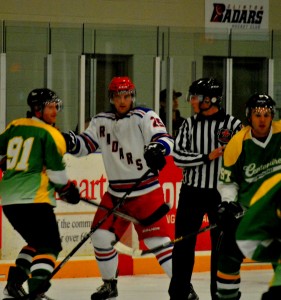 By Grant Fleming
Clinton, Ontario — A hockey club's decision to allow a convicted rapist to play this season is raising concerns with some residents in this southwestern Ontario town. One prominent resident with ties to the team says the controversy "poses a great dilemma" for him and may cause him to drop his sponsorship.
Mitchell Vandergunst, 21, is at the centre of the rift. In October 2014, he was convicted on two counts of sexually assaulting a woman. He was sentenced, last February, to a one-year jail term plus two years' probation. The judge described his crimes as "predatory in nature." Mr. Vandergunst is out on bail while he appeals both convictions. He is due back in court next month.
Earlier this year, Mr. Vandergunst's sex crimes triggered a scandal in Stratford (Ontario). The junior hockey team in that city allowed him to play for close to two full seasons after the sexual assault charges were laid against him in 2013. The team's coverup included a four-month period after Mr. Vandergunst was convicted. He was kicked off the team, but only after the parents of the victim complained to the media. Mr. Vandergunst then tried to catch on with another junior team near London (Ontario), but he was cut after a sponsor protested.
Mr. Vandergunst showed up in Clinton last month to lace up his skates for the senior club, the Radars. He has played in all five of the team's games. He is scheduled to be in the line-up for tonight's contest at the Clinton Arena.
Earlier this month, the team's president, Steve Campbell, said he did not know about Mr. Vandergunst's criminal convictions. Mr. Campbell went on to say he had "no issue" with having a convicted sex offender on the team because Mr. Vandergunst "would be in jail if he was guilty."
A local man whose business has sponsored the Radars for years does not understand why team officials are letting Mr. Vandergunst play.
Speaking on condition of anonymity, the businessman said, "My question to them was, 'Why did you not wait for the appeal process to take place? If a team like Stratford did what they did, why didn't you?'"
According to the sponsor, "They didn't give me an answer on it, and I didn't press."
The sponsor said he struggles with which side to take on the controversy because of his longstanding link to the Radars and to the Vandergunst family.
"I employ players [and] the team buys supplies from me," the sponsor admitted. He knows the Vandergunst family "very well," describing the father, Mark, as "a friend and a very good person."
The businessman added, "I also think about the awful things [the rape victim] has gone through. I know her family, too."
Asked if he could think of a development that would prompt him to cut ties with the Radars, the sponsor said, "If the team executive or the mayor came to me and said, 'We believe this is bad for the town, we want you to pull your sponsorship,' I would.
"If it get's dirty, if things come out, if the town's going to make a move, yeah, I will."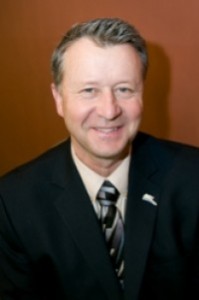 Clinton's mayor, Jim Ginn, does not want to get involved with the Vandergunst matter.
"This isn't a municipal issue," Mr. Ginn said. "It's a decision the team has to make."
Mr. Ginn said he has not received any complaints from townspeople about Mr. Vandergunst, but added, "It's a no brainer. It does not look good, but I'm not in a position to tell the team what their standards should be."
Mr. Ginn, who said he has a daughter, expressed concern for the rape victim.
"It's probably not fair that she knows [Mr. Vandergunst] is out there walking the streets," he said.
But the mayor thinks Mr. Vandergunst deserves a second chance.
"I'm hesitant to go down that route and call him a convicted, you know, rapist, until the appeal process has worked its way through," Mr. Ginn said. "We have to respect what our Constitution says."
Mr. Ginn added, "You're innocent until proven guilty."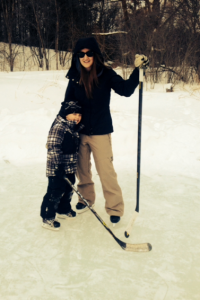 Jasmine Clark, a sexual assault counsellor for the local women's shelter, is not surprised by what she's hearing from community leaders in Clinton.
"Changing the culture is not an easy thing, especially in a small town," Ms. Clark said.
Ms. Clark is a mother, hockey player and long-time fan of the Radars. She is also a prevention services officer for the Stratford junior team, a job that involves running sexual consent workshops for the players and coaches for the Cullitons. She took on the role after the scandal erupted in Stratford.
Ms. Clark believes Mr. Vandergunst should be kicked off the Radars.
"He was not welcome to play on other teams like the Cullitons," Ms. Clark said. "I question why the Radars think it's okay for him to be on their roster."
Ms. Clark plans to attend tonight's game, saying, "I'm still a Radars fan."
Ms. Clark added, "But I think I would want [team officials] to understand the impact [Vandergunst's presence] has on the victim, the community, on people who do the kind of work that I do."
Ms. Clark believes team officials and community leaders may be misinformed, or willfully blind, when they say Mr. Vandergunst is innocent all over again.
"I think it might've been a different story if these people were in that courtroom listening to the trial evidence, hearing the judge call him a predator," Ms. Clark said.
Ms. Clark has written what she described as an "advocacy letter" to the team's president, Mr. Campbell. She said she plans to hand deliver it to him at tonight's game.
The Radars compete with 13 other senior teams in the Western Ontario Athletic Association. The league's president, Allan Dickson, would not comment on the Vandergunst matter, nor would he say if the W.O.A.A. has any policies that deal with people convicted of crimes such as rape.
Clinton (population: 3,000) is located 200 kilometers west of Toronto. Its most distinguished citizen is Alice Munro, winner of the 2013 Nobel Prize for Literature. Ms. Munro provides financial support to the women's shelter where Ms. Clark works.