By Grant Fleming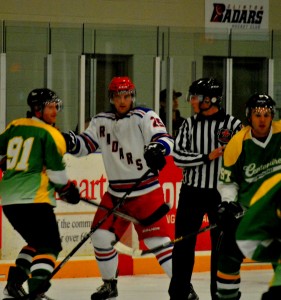 Stratford, Ontario — A convicted sex offender's presence in two hockey rinks is causing problems, prompting police to step in to keep rival fans apart.
Mitchell Vandergunst is a convicted rapist who played his junior hockey in Stratford. He was kicked off the team a year ago, but only after the parents of the victim went to the media to complain that team officials were allowing him to play.
Last fall, Mr. Vandergunst turned up in Clinton (Ontario), a town of 3,200 located 55 kilometres west of Stratford, and signed on to play for the Radars, a senior hockey team. Team officials and the town's mayor supported Mr. Vandergunst by declaring that he is "innocent until proven guilty," referring to an appeal that Mr. Vandergunst had filed with the Ontario Superior Court.
A source who asked not to be named reported that last weekend's playoff games between Mr. Vandergunst's team and the Petrolia (Ontario) Squires took an ugly turn when Mr. Vandergunst's supporters heckled, "she said yes," in retaliation for Squires fans chanting, "she said no." The source, who attended both games, said that the back-and-forth chants started in Petrolia last Friday and carried over to the Saturday game in Clinton. The source said police had to be called in to the rink in Clinton after one member of Mr. Vandergunst's family got involved in the fracas.
In a phone interview yesterday, Nathan Burns, the general manager for the Radars, denied that there was an incident.
"I'm not aware that there was a problem [last weekend]," Mr. Burns said, adding that his team has no plans to beef up security at tonight's home game against the Squires.
Repeated attempts to contact the Ontario Provincial Police detachment in Clinton were unsuccessful.
Squires fans will be on hand for tonight's game in Clinton. A team spokesperson said he expects 40 to 50 fans to fill a bus for the 90-minute trip from Petrolia, a town of 5,500 located 90 kilometres west of London.
Dan Vasey, the arena manager in Petrolia, said he heard that "something happened at the game [in Petrolia] last weekend, but I wasn't there." Mr. Vasey said that the town's police detachment is close by in case there are any problems when the teams play game four in his rink this Saturday.
Petrolia is hoping to win an annual contest that chooses the top hockey community in Canada. The 10 finalists will be announced on Saturday, March 5th, just before the Squires and Radars hit the ice. Clinton is not in the running for the honour.
Clinton and Petrolia play in a 13-team senior league governed by the Western Ontario Athletic Association. The president of the W.O.A.A., Allan Dickson, was unavailable for comment.
The teams draw sparse crowds for regular season games but often attract several hundred spectators during the playoffs. The fans include children and young teenagers.
Mr. Vandergunst, who is free on bail and not prohibited from playing hockey, is seeking a new trial on his two sexual assault convictions involving his best friend's girlfriend. One of the convictions was for forced sexual intercourse. His appeal was heard last month. The judge will announce her ruling on June 1st.
If Mr. Vandergunst loses his appeal, he will serve a one-year jail sentence.
Do you plan to attend upcoming games involving the Clinton Radars? Even if you don't, your comments are welcomed. Contact me at plainspeak@grantfleming.ca.