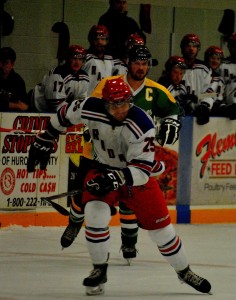 By Grant Fleming
Clinton, Ontario – The head of a senior men's hockey club says he "doesn't have a problem" with a convicted sex offender playing for his team.
Steve Campbell, the president of the Clinton Radars, made his comments regarding his team's decision to allow Mitchell Vandergunst to play for the Radars.
In October 2014, Mr. Vandergunst, 21, was found guilty on two counts of sexually assaulting a woman. The judge described his crimes as "predatory."
Throughout his criminal proceedings, and for another four months after he was convicted, Mr. Vandergunst was allowed to play for the Stratford (Ontario) Cullitons. He was kicked off the team after the parents of the victim complained to the media. The team's executive, led by prominent Stratford officials, including the mayor and the ex-chief of police, claimed they did not know they had a convicted rapist in their midst.
Mr. Vandergunst was sentenced, last February, to a one-year jail term plus two years' probation. He is appealing both convictions.
In a telephone interview, Mr. Campbell said, "I don't even know if what you're telling me [about Mr. Vandergunst's sexual assault convictions] is true. If he was convicted he'd be in jail."
When asked if Mr. Vandergunst disclosed his crimes to team officials, Mr. Campbell said, "not to me."
Mr. Campbell is a municipal employee in Central Huron, a district that includes Clinton. He manages all sports facilities, including the arena where the Radars play.
Mr. Campbell's claim that he was in the dark about Mr. Vandergunst is at odds with what the league's boss knew.
In a separate interview, Allan Dickson, the president of the Western Ontario Athletic Association (W.O.A.A.), admitted he knew about Mr. Vandergunst's sex crimes. He declined to say whether or not the W.O.A.A. has a policy to deal with convicted sex offenders. When pressed to explain why the league did not wait for Mr. Vandergunst's appeal to run its course, Mr. Dickson said, "I can't comment because the matter is before the courts."
Under Mr. Dickson's leadership, the W.O.A.A. also runs girls' and women's hockey leagues in the region.
The mayor of Clinton, Jim Ginn, said he had no idea that the Radars had recruited Mr. Vandergunst to play for the team. Mr. Ginn added that he planned to speak with Mr. Campbell about the matter.
Marg Anderson, a town councillor in Clinton, said she would need "to do some research" on Mr. Vandergunst before commenting.
Before joining the Radars, Mr. Vandergunst tried to play for the Komoka (Ontario) Dragons junior team this season, but officials with that club dismissed him after a sponsor raised concerns.
The Radars compete in the W.O.A.A.'s 14-team league. Club rosters include many ex-junior players in their 20s and 30s.
Clinton is located 200 kilometers west of Toronto. The most notable of its 3,000 residents is Alice Munro, winner of the 2013 Nobel Prize for Literature. Ms. Munro provides financial support to the local women's shelter.
(Coming up on Friday, October 30th: A sexual assault counsellor, who happens to be a fan of the Clinton Radars, talks about Mitchell Vandergunst. As well, readers will hear from a man who played junior and senior hockey in southwestern Ontario. He thinks the Radars "are choosing winning over a moral obligation to the victim.")