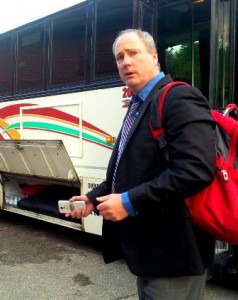 By Grant Fleming
[Update: On October 16th, Peter Crosby resigned as coach of the Guelph Hurricanes. In a message he sent to this reporter minutes before his team took to the ice that evening, Crosby wrote, "I'm stressed out…I've been soul searching for a while now." He said the team was struggling to find enough players to fill out its roster ("this has become a health and safety issue"). As well, he'd become concerned about his own behaviour ("I'm snapping at my players and my coaching staff — officials, too — and that's wrong"). When asked if he encountered any problems because he spoke out about the league's handling of the rape scandal involving his rival, the Stratford Cullitons, Crosby said, "I haven't had any problems with that. The decision to resign was mine."]
Stratford, Ontario — A top junior hockey coach wants to know why the governing bodies for his sport have not questioned officials with the Stratford Cullitons for what he calls a "homegrown" investigation into a rape scandal.
Peter Crosby is the head coach for the Guelph Hurricanes. His team competes against the Cullitons in the Greater Ontario Junior Hockey League. The GOJHL is governed by the Ontario Hockey Association (OHA) and Hockey Canada.
In an exclusive interview, Crosby said he was "shocked" that board members with Cullitons got away with what is being called a "sham" investigation into a rape scandal that has rocked this southwestern Ontario city.
The case involves Mitchell Vandergunst, a former player and assistant captain for the Cullitons. In July 2013, he was charged with three counts of sexually assaulting a woman. On October 3, 2014, he was found guilty of two of the charges. The judge described his crimes as "predatory."
Vandergunst was allowed to play with the Cullitons the day he was found guilty. Coincidentally, he played against Crosby's team, scoring a goal to help the Cullitons defeat the Hurricanes.
"I had no idea about [Vandergunst's] crimes," Crosby said. "I didn't hear anything about it until I read about it the week it broke wide open."
Vandergunst continued to play for the Cullitons for four months. He was finally kicked off the team, but only after the father of the rape victim called a local newspaper, on January 30th of this year, to expose the convicted sex offender.
On February 3rd, Vandergunst was sentenced to a one-year prison term plus two years' probation. (In an August 21st email, Vandergunst's lawyer, Mark Halfyard, confirmed that he is appealing both convictions.)
Three days later, on February 6th, the president of the Cullitons, Dan Mathieson, told reporters that the team's head coach, Phil Westman, knew about Vandergunst's sex crimes but did not know what to do with the information. Mathieson said Westman offered his resignation willingly.
Mathieson also claimed that none of the team's approximately 35 board members and staff, including himself, knew they had a convicted rapist in their midst.
Mathieson is also the mayor of Stratford. He was running for re-election last fall while Vandergunst's trial was going on.
Crosby said some of what he's heard from the Cullitons stretches credulity.
"I find it very difficult to believe no one besides the coach knew about [Vandergunst]," he said.
In June, Mathieson surprised Cullitons' fans, sponsors and the local media by announcing that the Cullitons' board of directors had hired a private eye firm, Eagle Investigations, to investigate the rape scandal.
A source who spoke on condition of anonymity because of close ties to the team said, "Mathieson and his buddies on the board hired a bunch of private dicks to snoop around town, and no one knew about it?
"That's not being open and honest about what happened, that's being creepy."
According to Mathieson, the Eagle investigation "found exactly what we said," that everyone connected to the team was in the clear — except the coach. He added that a "small number of players" heard rumours about Vandergunst's crimes but did not want to pass on the gossip to team officials because of their loyalty to the sex offender.
One of the more curious findings in the Eagle report states that an investigator interviewed Scott Farley, the CEO of the OHA. The report does not explain the purpose of that interview or what questions Farley was asked.
Crosby was troubled by that news.
"I don't get why the OHA is being investigated," he asked. "Shouldn't it have been the other way around? Why wasn't the OHA asking the questions?"
Before agreeing to an interview, Crosby said he wanted to be clear that his views do not necessarily reflect those of the Hurricanes organization. But the successful hockey coach, school teacher and father of teenaged daughters said his league "needs to talk openly about what happened in Stratford because there are lessons to be learned here.
"A player in [our league] was convicted of sexually assaulting a woman. We've heard very little from the powers that be. Where is the OHA? I honestly thought they would investigate what happened [and that] new policies would come down, but we haven't heard anything."
The OHA governs junior leagues in the province. From the start, Farley seemed unsure what his office would do about the scandal. He was non-committal during a radio interview on the same day Vandergunst was kicked off the team. Towards the end of the interview, Farley said, "I wouldn't call this a crisis."
Farley resigned suddenly last month. It is unclear if his departure is linked to the Cullitons' scandal. His replacement, Mark Ellis, has ignored repeated requests for comment on whether or not the OHA is investigating the cover-up in Stratford.
As for the sport's highest office, Hockey Canada, one of its vice presidents, Glen McCurdie, declined to answer questions about whether or not he plans to take action.
Crosby said he respects the Cullitons because of the team's rich history and winning ways. He described his rival as "a model franchise [but] what happened in Stratford, and the way the OHA has handled it, has given the league a black mark."
Crosby said he has no axe to grind with the Cullitons, but he described what he called "an interesting experience" with Mathieson earlier this summer.
"I re-tweeted a story about the Cullitons," Crosby recounted. "Sheldon Kennedy was quoted in it. I thought maybe other people in the league might want to read it.
"Next thing I hear, Dan is upset with me for sending out the article. He wants to talk to me. But my general manager told Dan he didn't see a problem with what I did."
Asked what Mathieson wanted to say to him, Crosby would not guess.
"You'd have to ask Dan," he said.
Mathieson has refused to answer this reporter's questions since the scandal broke last winter. Earlier this summer, he was replaced as president of the Cullitons. It is unclear if he stepped down on his own or was asked to leave.
Crosby said a positive that has emerged from the Stratford scandal is his rival's new policy to have players and coaches attend a workshop that addresses sexual consent. He says he plans to do the same with his team.
(Sunday: Whatever happened to the convicted rapist, Mitch Vandergunst? And what's going on with the disgraced coach, Phil Westman?)