From a Distance: My Dinner with Maxine Ruvinsky
Once upon a time — before time — Maxine Ruvinsky attended a performance by Stratford's musical legend, Loreena McKennitt. It was held in Max's hometown, Montréal. She was my date that evening. The other day, we reminisced. I asked her what impression that show made.
"It proves that some people like Loreena grow more beautiful, not less, with age. Also that the way her gorgeous music tugged at my heartstrings means I haven't yet become a complete or certified misanthrope."
Indeed.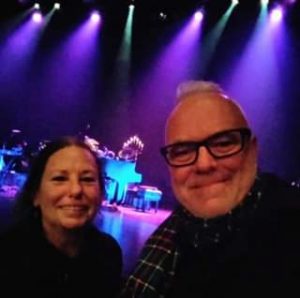 Dr. Maxine Ruvinsky is a best selling author ("Practical Grammar" and "Reporting for the Media," both published by Oxford University Press), a former newspaper reporter, an academic (Professor and Chair of the Journalism School at Thompson Rivers University, in British Columbia), a musician, mother and grandmother. Also, she's a mentor to many. Misanthrope? More on that later.
What I appreciate about Max: she's brilliant, tough and possessed of a kind heart.
Max is retired now. Well, not really. I caught up with her to talk about her life during The Great Pause. These days, she's missing her family, especially her darling Clementine.
---
WGF: What's going on with you in Montréal these days?
MR: I've been self-isolating since early March, so the short answer is "not much."
It's eerily quiet in the apartment building where I live (on the second floor of a four storey building). I do hear people working in the apartment above mine; those tenants have apparently opted to move since the building owner sought exorbitant rent increases this year (according to the Régie, Quebec's "landlords" are entitled to annual percentage increases). How does this make any sense when workers aren't entitled to annual wage increases? Oh, right: how to get blood from a stone.
I'm writing in the morning (about 6 a.m. till about noon), playing in the afternoon, usually for several hours, and relaxing in the evening. When I crave fresh air or need to fill the bird feeders, I go out on the balcony that's off my bedroom. When I do, the birds scatter (oh, you scaredy-birds, I say to them), but they return once I've gone inside. When I play guitar, some of the visiting birds notice. The sparrows and finches aren't terribly musical, but the cardinals (and I think I heard a thrush the other day) are most certainly into it: for example, they go absolutely berserk when I play Bach. Good taste. (Did you know that songbirds have the fastest twitching muscles of any of the world's creatures?)
WGF: What else are you noticing around you?
MR: The thing I'm noticing that's different in my immediate surroundings is the quiet. I would have imagined, with more people staying home, more noise. The only person I see (when I go downstairs to collect the groceries I order online or to collect my mail) is a neighbor taking his dog out (a sweet little guy named Wendell, after Wendell Berry) for his constitutionals.
I've noticed in phone conversations and emails with friends and family, and a couple of former students (one emailed from China to see if he could send me some masks), that there appears to be taking place a collective raising of consciousness, about how we approach the elements of everyday living, like shopping for groceries, a growing awareness of how connected we all are, a growing appreciation for all the things and people we take so much for granted. I could be romanticizing this as some kind of silver lining to a horrid pandemic, but I don't think so.
I noticed, talking to you on the phone the other day, how much you talked about your gardening, and the natural environment generally—things you often talk about with a certain unmistakable verve, but these days with even more exuberant passion (if that's possible, given your exuberant nature).
As for sameness: My daily routine hasn't changed much: I write in the mornings and play guitar in the afternoons. In the evenings I catch the news on TV and whatever else seems worth watching, or more likely, I take to my bed to read. I do miss my long daily walks, though; trying to stay physically strong with my old yoga routine (and a new aerobic routine that I added recently because the yoga was feeling too static).
WGF: Are we at war now?
MR: In a sense, I guess we are. But strangely, I (and many of the people I talk to) feel more at peace than during "ordinary" times. Breakdowns can be breakthroughs socially just as they can be for individuals.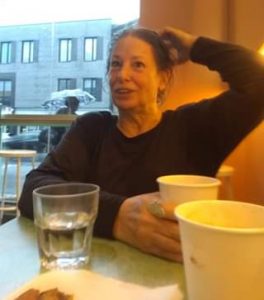 WGF: Before we talk about your thoughts on the way forward, what are you writing about these days?
MR: I'm still working on The Trouble With Words: A Commonplace Book, which has turned out to be not much like a classic commonplace book, more like my collected thoughts on language and literacy, and love and insight, a strange attempt to integrate my thinking in three usually separate spheres: the journalistic, the scholarly, and the personal. I'm close to a first real draft (as opposed to what I used to call "zero" drafts—where I just let fly without worrying about anything, including making communicable sense—but a friend gave me a better word for them: he calls them interim drafts (more encouraging that "zero" drafts, no?).
I started taking notes for this commonplace book almost five years ago, and I don't mind telling you it's been hard, harder than the previous books (or is that like childbirth: in the joy of the baby, women forget the pain of childbirth, and that's why they do it again after the first time).
It's been so hard, in fact, that I've pleaded with several people: "If I ever get another idea for another book, please take me out back and shoot me. Do not let me suffer like this." They think I'm joking (I'm only half-joking), or they don't buy it all. My daughter Lienne said, "Yeah, yeah, Mom." A writer friend said, "Think how good you'll feel when it's done." (Right. Like stopping to bank my head against a brick wall.) My sister Carolyn, renowned for her ready wit, said, "Sorry, I don't do that," but did offer to take me out to dinner instead (an offer I look forward to taking her up on when, the universe willing, covid-19 has played itself out).
WGF: You're a musician, too. What role does your playing play during The Great Pause?
MR: The playing is a nice break from the banging my head against the page (that unforgiving tyrant!), but what's interesting is how much more I notice about it, not just the all-important sound, but more about my intentions for a given piece and more generally my motivation for playing at all. It feels as if all of my "normal" behaviors are more significant somehow, lit up somehow with a new kind of curiosity.
WGF: Let's talk about your work as a journalist. For many years, you were a reporter. Later on, you wrote a series of books, including "Investigative Journalism in Canada." If you were covering today's pandemic and what would stories would you chase?
MR: I would be talking to every corporate CEO I could to find out how they are fulfilling their responsibilities (or not) to their employees (by continuing to pay them while social distancing is still necessary), and I would be talking to social critics about their ideas for handling this social reckoning.
I would try to make explicit the connections between corporate power and government power so that people would see that connection as I see it: government as the public relations arm of corporate power and the Insurance Company for the corporate stranglehold. Why? Because although reporters and writers some time ago let the fat cats out of the Panama Papers bag, the reckoning has yet to occur.
I would not attend the press briefings and televised rallies of such a one as Donald Trump. Let Fox News do it.
WGF: What opinion pieces would you write?
MR: What covid has shown us, the human species, is how much in need we are of a grand reckoning to deal with built-in, ingrained injustice systems. While human lives are at risk, corporate behemoths and some individuals look to make a profit—and do—from the crisis.
This crisis shows how we need a guaranteed annual income and a guaranteed minimum wage. Companies that can't abide by a minimum wage and guaranteed health care and non-polluting practices would have to fold. Of course that would mean radical change for all of us—no kind of "new normal"—but then that's what grand reckonings are for.
WGF: What about the idealist in you? What are your hopes and dreams?
MR: In my political fantasies: People work together to form their own cooperatives, where everyone shares the work and profits, if not equally, then at least with something recognizable as fairness. Decisions are made collectively and power is shared. (In the ancient Hebrew court, the Sanhedrin, when everybody agreed on something, the group had to go back to the beginning of the discussion to figure out what they had missed.)
A "government" (at any level) that can't ensure no on lives on the street and no one is hungry for lack of money, is a government that should be ousted. No matter how good a system, there will always be wise guys (and girls) looking to and finding ways to game the system. Laws have to change to incorporate the equivalent of a shotgun clause. For example, in countries like the U.S., where senators and congress people still get paid when they shut down the government, if they had to forgo pay during shutdowns, the latter would be exceedingly unlikely.
The only way to fix the vileness of politics is shared power. Voting is a nice idea (despite the anarchist saying: don't vote, it only encourages them), but the real potential for change is in unified economic action (not just boycotts and unions, but all kinds of new and creative ways to make justice speak, to give voice to common humanity)—these ideas exist in abundance (but they don't make good TV—and I am not here putting down TV; these days I'm grateful for it).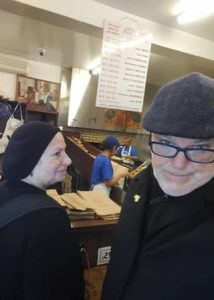 WGF: You're a skeptic. In whom do you place your trust these days?
MR: If it's a choice between Trump and Trump-like anti-intellectualism, then no contest: I trust the scientists. But there's a difference between science and scientism. And scientists, in any case, don't speak as one voice, so my answer would include a question: Which scientists? They speak, when they do, after all, like the rest of us, as individuals (and as individuals in the employ of other individuals).
The only "trust" I think any of us can rely on in the midst of this pandemic is self-trust, that is, reliance on our own judgment based on the facts. We can get the facts from mass media (especially if we avoid the sayings of president Trump). The capacity for good judgment, however, is, like the capacity for independent thought, something that we learn (or don't) from our experience and from our caring for each other (or not)—in any case, it's not something we can pick up online.
WGF: We're hearing more and more about people demanding that their governments free them from lockdown. In America, they're showing up at state houses. Some are carrying guns. In Canada, they're protesting in front of legislative buildings. What do you think of these demonstrations?
Every crisis—whether pandemic or personal—brings out the best and the worst in people. When I see people demanding an end to lockdowns, it makes me sad. When I see them with guns, it makes me scared. I try to cope with these feelings by reminding myself that more numerous by far than these fear-mongered responses are those people doing whatever they can to keep themselves and others safe and sane. I remind myself that the former sort make easier television than the unnamed everyday heroes who far outnumber those without the wherewithal to appreciate an enemy they cannot see with the naked (and/or jaundiced) eye.
WGF: Many of us call these people stupid, as in, "you can't fix stupid." We call them idiots. Menaces. Dangerous. What do you call them?
MR: I call them people.
WGF: Where do you think we'll go from here?
MR: If there is any hope for us as a species, and I retain hope, we will move toward raised consciousness, especially of how connected and interdependent we are as individuals, and not just the individuals of our own necessarily small circles. I think we will move toward greater compassion and greater justice and so, toward more enlightened behavior.
WGF: What needs to change?
MR: Guaranteed annual income, guaranteed living wages, free education and health care. Because all of these social goods depend in our money system, on money. (The Nobel laureate economist Amartya Sen, called a "humanist" economist because he writes about the economy of the world's underclass, has written about this money economy, in which money is considered a good in itself, rather than a means exchange. He's shown that people can die of starvation in famines in the modern world not because there is a lack of food production, not because there isn't enough food to go around, but because they lack money ("currency," hard or electronic). We can work collectively for such public goods as health and education; we don't have to pay corporate systems to dispense their impostors.
If there were to be this reckoning of which I dream (and I'm hardly alone), if there were to be no danger of starving for living outside the stranglehold of "employment," corporate or otherwise, I think we would see a genuine flowering of human potential and an enlightened redefinition of work: Doctors with a healing touch and intent; teachers who love to learn; writers with something to say; community organizers with a hope and a helping hand, plumbers with water divining skills.
I can hear my opponents now: "And who will collect the garbage? Well, see, we would all have to contribute to that, we would all have to share the work "no one" wants, and with enough of such sharing we might come to actually respect "the dignity" of work we pay such lip service to—and the natural dignity of each other.
All of that reminds me of my obsession with "why write?' and with writing, and with old Dr. Johnson's much quoted "No man but a blockhead ever wrote except for money," and its wonderful contemporary correction: "Of course a writer writes for money, but only a blockhead writes only for money." (Tracy Kidder, in Good Prose: The Art of Nonfiction).
On the other hand, if I see one more mock-Buddhist corporate commercial about how we're all one—I'm going to toss the TV set.
To return to where I began in this brief rant: guaranteed income does indeed work to prevent people from dying in the despair we call hunger and homelessness and poverty and prison.
WGF: What are the chances we'll change?
Fifty-fifty.
WGF: You had a birthday just before everything skidded sideways. Happy 70th! How does Covid affect your thoughts on death and dying, or does it??
MR: I've thought a lot about the end of life, I've seen to getting my affairs in order, and I've spent a lot of time (probably too much) reminiscing about people I've loved and lost, especially about my folks and about the siblings who have passed (there were seven of us kids; four are left).
WGF: Now that you're one year older and living through a pandemic, what's your life's purpose? Will you stop being a misanthrope? Your word, not mine.
MR: Plans for change, post-covid, include these: never again waste a shred of food, never again buy a single item I don't actually need; volunteer to teach writing and guitar for free to people who can't afford formal study; find other musicians with whom to play classical music and overcome my fear of performing. Notice I'm not planning on any more books (though magazine articles are a possibility).
And about being a misanthrope: You know what they say about self-declared misanthropes (and if memory serves, I said I was in danger of becoming a complete misanthrope, not that I am already one). In any case, you know what they say about misanthropes: Scratch one, and you find a hopeless romantic. Plus, she just might scratch you back.
WGF: You've endured heavy losses in your immediate family. How does this crisis feel to you?
MR: Scary and lonesome.
WGF: It's Mother's Day? How is your family?
MR: I'm so happy to say that everyone's doing okay. I miss family and friends, think of them daily. I miss my granddaughter Clementine something fierce.
WGF: You and I have broken bread together a few times. What should we have for dinner tonight?
MR: That's an easy one: big green salad, linguini prima vera, sinfully rich garlic bread, a bottle (or two) of Beaujolais, and for dessert: berries and cheese and chocolate and strong coffee, maybe even with cream.