Theatre fans in Stratford—well beyond our borders, too—know Steve Ross. The award-winning actor and singer has been with the Company for more than 15 seasons. His pedigree and credits are impressive. This season, he's scheduled to be on stage in "Chicago" and "The Miser." (For a taste of one of Steve's show-stopping, past performances, check the "comments" section attached to this post. Also, Google Steve's biography.)
Steve's husband of 28 years, Randy Read, has carved out his own place of prominence in the arts: actor, stage manager, director, producer and, for many years now, artistic director of the theatre company, New Stages, in Peterborough, Ontario. (Hi, Google? Tell me more about Randy.)
The two men took time from their…um…busy?…days to talk about their lives, loves and concerns in the time of cholera.
(Steve=SR, Randy=RR)
---
WGF: How are you two bearing up during the pandemic?
SR: The day to day has morphed as the weeks have gone on. In the beginning, I was a bit obsessive about keeping a schedule. I would wake up at the same time. Make the bed. Clean up the kitchen. Read whatever I could on the internet about what had happened the night before. Panic about the statistics. Weep quietly. Then go out for a walk.
Much has remained the same but there's been a definite relaxing of things. I find I'm sleeping a bit later. Still make the bed. Afternoons, I try to work on something. I'll look at my lines for Chicago. I found I was losing my dialect so I wanted to keep working on that because when we go back it's gonna be fast and furious, I'm sure.
I'm no stranger to a nap these days. Then I talk to pals. Have dinner. I try to take the evenings off. Not worry if I don't get anything accomplished in the evenings. Sleep has been….elusive. But at least I'm going to bed at a set time.
WGF: You and I talk about mental illness, usually at greasy spoons. I'll admit two things. First, I've had skittish times since everything went nuts. I think it was around the Ides of March that I went from 0 to 60 in one day. Second, I miss greasy spoons, but not you snapping at me whenever I'd ask you, "what you're ordering?" Anyway, how's your own head?
SR: Listen, every person has to be responsible for what they order for breakfast. We mustn't rely on our meal partners for this information!! Hehehe.
Personally, this is a time to really try to self-monitor and check in and see how things are. On a daily basis, on an hourly basis. This time is anything but normal. I have to keep telling myself that it's okay to not be productive some days. It's okay to feel down or worried about things. It makes complete sense.
The danger for me is when I allow those worries and emotions to take hold and root, and keep me down. A passing thought is one thing. An entire day of me obsessing about this whole situation is another, and one that I'm trying very hard to avoid.
WGF: How are things with you, Randy?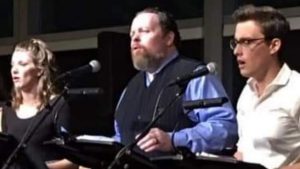 RR: I'm working hard to try and maintain some routine, however minimally. I'm waking up later – well – getting up later. I have always been an early riser but find I am staying in bed until as late as 10 a.m., and often going back to sleep, I think in an effort to not have to deal with as many hours in the day.
When I get up the routine is generally have a big glass of water, then another glass of water, then make the bed, then do the dishes from the day before. Then have coffee and cereal. I will then look at the news on the internet, read any articles of interest, read Facebook page and check emails and respond to any that require a response. By now if is about 1 p.m. – lunch! I have a small meal and then read or watch TV – then nap – then maybe a bath or read or TV – and then dinner. Evenings, I read and watch TV.
I try to have sporadic bouts of exercise – usually dancing. And of course once a week it is grocery shopping day. This activity disrupts my routine – and is welcome! As well, friends will occasionally invite me on a six feet apart walk.
WGF: What's it like for you to go back and forth between Peterborough and Stratford? I'm conjuring scenes of deserted freeways and tumbleweed. Mad Max meets Walking Dead.
RR: I've only made the journey here once. Normally, there is always a bumper to bumper traffic jam – sometimes more than one – which makes the trip slow and the 401 is crowded with cars and trucks.
This last trip, on the 9th, there was very little traffic. I didn't notice any tumbleweed, but it is a very surreal feeling to be on a highway that is normally jammed – and find very few cars – and it gives you a kind of apocalyptic feeling.
WGF: Your Peterborough theatre is shuttered. How did that play out?
RR: New Stages is a theatre company with no actual building to consider. We rent venues to do our work. We had a Board meeting in mid March to discuss our final production, Iceland, by Nicolas Billon, which was scheduled to run end of April into early May. Our Board Chair asked what we should do if Iceland should have to be cancelled. I felt at the time that this was a kind of absurd question, so we discussed it very briefly and all decided it was highly unlikely we would have to take any action. And then– POW.
There was no option BUT to cancel the final show. We let our subscribers know, and I advised the actors, who had yet to be officially contracted, as well as the Canadian Actors' Equity, and the playwright's agent. Subscribers have told us to keep the money for the company.
WGF: Peterborough's a much bigger city than Stratford. How are things there?
RR: The impact of the shutdown is devastating, economically and emotionally. It doesn't have one organization that has an overriding impact on the community the way the Stratford Festival does, but it is a very strong arts community with music probably being the dominant force. Theatre is second, with a lot of alternative artists in the two genres. Those artists are sustained by work in restaurants and retail, and they are suffering.
Peterborough is very much a university and college town, with Trent University and Fleming College. Those students were sent home mid-March, and the town is also suffering economically from their departure.
There have been glimmers of inspiration. A close friend, arguably the most influential and loved arts patron, and a playwright herself, turned 85 recently. Since no celebration for her was possible, a couple of actors organized a drive- by of her home. She went outside while a virtual parade of more than 30 cars drove by, honking and yelling happy birthday to her. Cars were decorated with balloons and streamers. She looked on with an expression of pure joy.
It is innovative caring that assures all that we will get through this and, who knows, might ultimately be better for it.
WGF: When did the pandemic get real for you, Steve?
SR: The first time we were alerted to anything, I was actually at home. They were rehearsing another show that day, so I got word from one of my cast mates. Then, when we got to work the next day, we rehearsed as normal. The next morning, we got a message to stay home. Then, we got word about April. And then, we got word about May being cancelled.
It didn't really sink in for quite a few days. It seemed like something that would resolve itself very quickly. And then it didn't. With April and May shows cancelled, you can see that has a ripple effect on the whole town.
We were so excited about Chicago. We still are. We can't wait to get back and get in front of audiences.
WGF: Let me pick up on that. Lots of artists the world over, including our homeboy Bieber, are jumping on broadcasting platforms to inspire and entertain their own audiences during The Great Pause. The Festival is a global brand, beloved by so many. We know it just launched a series of Shakespeare plays on YouTube. But you're well-known for your great performances in musicals. What are your plans to connect with your fans and supporters?
SR: It's been very interesting to see what other homebound company members have been cooking up. I'm in search of something that will adapt well to the at-home format. I've experimented on Zoom with a pianist and we didn't have much luck. There was a lag between her playing piano and me singing. I feel like it's all about the internet speed. I could be wrong.
WGF: That would be frustrating. Randy, any thoughts?
RR: I don't really have any suggestions. I applaud anyone who makes the effort to continue to be creative in this way but I think a great deal of thought needs to be put into considering what pieces are appropriate online, and what may not work. What the Festival is doing is wonderful because that work was filmed and is absolutely ideal to be viewed online.
I think music works well in this format, as well. Not to cop out – but I think each actor needs to decide what they want their own level of connection to be. Formats like Facebook present a fine balance between keeping connection and becoming ubiquitous and narcissistic. And that is for each actor to decide for themselves.
WGF: You had Steve perform at your theatre in January, just before things went sideways. How did the experience go for you, personally?
RR: Steve's participation in Every Brilliant Thing, by Duncan MacMillan, went extremely well for me, on both a professional and personal level. From my knowledge of Steve's work, and also my years as a casting director, I knew that Steve would be ideal in the role, that he'd bring to it the highest level of skill and warmth imaginable – and he did.
I hired Linda Kash to direct because of the element of improv that's involved in the piece. Linda is vastly experienced in that area. I have been directed by her and know, first hand, what a joy that is.
Personally, I've never actually directed Steve before, and, as his partner, that COULD mean we might encounter a few problems – though maybe not. I did stage-manage, to save money. I had never stage-managed before, with the exception of some reading events. I frankly don't think I'm very good at it, but Steve was patient as I found my way in that position.
The audience was thrilled with Steve's performance. I was over-the-moon proud of him, and happy that he was doing the show for us.
WGF: That was your last acting job before the theatres went dark, Steve. Looking back, what was it about Every Brilliant Thing that stood out for you?
SR: It's about many things. At its core, it's about a young man whose mother is depressed and tried to commit suicide, more than once. The writing is so honest and good. Linda and Randy were beyond helpful in this process. Couldn't have done it without them, really. I would love to have done it for a longer period.
The play brought up feelings for audience members. I had people coming to me, after performances, to talk about their own experiences. For them, it wasn't just entertainment. It affected them, which is fantastic. But I had to acknowledge that and be responsible.
WGF: What were you — let's go with what ARE you—looking forward to the most this season in Stratford?
SR: Two-fold: we are already very proud of Chicago. We'd been at it for quite awhile, and were well on the way to lights and costumes. It's gonna be a fantastic show.
Also, I'm so looking forward to getting back in a room with Colm Feore, in The Miser. I haven't worked with him since Cyrano de Bergerac. I love watching him work. One of the best things about working at this Festival is getting to watch and learn from so many wonderful actors.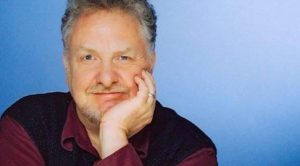 WGF: Randy, what does the way forward look like for you at New Stages in Peterborough?
RR: I do believe that it will be some considerable time after the official lockdown is over before everyone feels comfortable going to the theatre again, being in crowds. This will likely translate into smaller-than-normal houses..
New Stages Theatre is in a somewhat enviable position. We have a very healthy bank balance. Things are somewhat up in the air because we were scheduled to present our first event in early October, but there is currently no way of being definitive about that happening. My personal feeling is that we might have to have a 'half season' running January to June instead of the normal September to June time frame.
Over the next two months, I will be sending personal handwritten letters to each subscriber to check in with them, remind them of their importance to us, and try and let them know what our tentative plans are for next season. Though it may mean handwriting 200 letters, I don't find it onerous. I know many of them personally, and I'll just have a shot of scotch at hand. I have a limitless amount of time to do this.
WGF: We're close to a wrap here. It's dinnertime. What are you feeding me?
RR: You'd have to ask Steve that. I do know how to turn the burners on – but that's about it. And we have these wonderful neighbours Grant and Jacques who keep dropping off delicious care packages of food – so you might want to ask them what you will be fed.
WGF: Final question: What do you two want to tell the world today?
RR: I think we were woefully unprepared for this pandemic. Personally, for years I have read scientific articles saying that it was not matter of if, but when this would happen. I find it disturbing that no preparation plans existed in light of the Spanish flu, SARS and other pandemics in the 20th century. MAYBE that will change now.
I think we will all be more aware of what we have and of the simple things in life we previously gave little thought to – and that's a good thing. I can't talk with any experience about politics, but I do know that, somehow, since I was young, the gap between the rich and the poor has widened so much, and, from what I read, corporate wealth is largely responsible.
We are now all in the same situation. Maybe, ultimately, there will be some kind of turn-around and recognition of the situation.
SR: Be good to one another. Be good to people at the grocery store. Wave at people on your daily walk. Wait it out. This is eventually going to come to an end. Nobody knows when, and that's daunting. But it will.