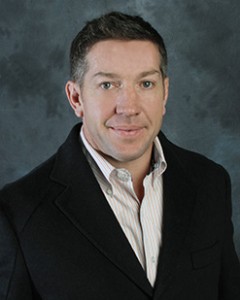 By Grant Fleming
STRATFORD, ONTARIO – An Order of Canada recipient who speaks out for sex abuse victims says the leaders of the junior hockey team in this southwestern Ontario city need to face up to a rape scandal that has rocked the club, instead of "sweeping it under the carpet."
Sheldon Kennedy is the former professional hockey player who was sexually assaulted, for years, by his junior hockey coach, Graham James. Many of James's sexual attacks on Mr. Kennedy happened while both were with the Swift Current Broncos, a junior hockey team in Saskatchewan.
This week, Mr. Kennedy, 45, called it "unbelievable" that officials for the Stratford Cullitons junior team allowed a convicted rapist to remain on their team. He added, "I think there are still people who want to try to sweep [sex crimes] under the carpet. Some people don't get it."
On October 3rd, 2014, Mitchell Vandergunst, an assistant captain for the Cullitons, was found guilty on two counts of sexually assaulting a young woman. The incidents, including unwanted sexual intercourse, took place in July, 2013, in South Huron, Ontario.
The gravity of Mr. Vandergunst's crimes didn't seem to raise an alarm with the Cullitons. A few hours after he was convicted, Mr. Vandergunst was given the go-ahead to lace up his skates. He scored a goal to lead his team to a victory that night. He went on to play with the team for another four months.
Mr. Kennedy said people such as the officials for the Cullitons "don't really believe the seriousness of a young lady being raped [and] how that causes so much trauma."
Though he went on to play in the National Hockey League, Mr. Kennedy revealed that he battled drug and alcohol abuse because of the trauma he suffered at the hands of James. In 1996, Mr. Kennedy and another player reported James to police. James pleaded guilty to 350 counts of sexual assault and sent to prison. Since that time, he has been convicted for additional sex crimes involving other males, including the ex-N.H.L. star, Theoren Fleury.
Mr. Vandergunst was dismissed officially from the Stratford hockey club on February 5th of this year – two days after he received a one-year jail sentence for sex crimes the court described as "predatory." He was granted bail while he awaits his appeal.
Mr. Vandergunst was removed from the Stratford club only after the parents of the rape victim called the media to complain that Cullitons officials were allowing him to keep playing.
The coach of the Cullitons, Phil Westman, was forced to resign the same day Mr. Vandergunst was sent packing.
After Mr. Vandergunst was sentenced to jail time, some of his supporters took to social media to criticize the woman who was sexually assaulted. Mr. Kennedy said he's not surprised to hear about the victim blaming.
"[When I went public], the newspapers were blaming me," Mr. Kennedy recalled. "They were saying, 'Kennedy can't be believed. Graham James was the saviour of a troubled kid.' So, I can relate to [her].
"People say those things because of their own fears."
Club officials for the Cullitons, including the board president, Dan Mathieson, have been silent about the scandal since the departures of Mr. Vandergunst and Mr. Westman. The last time Mr. Mathieson spoke publicly about the scandal, back in early February, he told reporters that Mr. Westman was the only person who knew about Mr. Vandergunst's sex crimes, but that the coach was confused about what to do.
The deposed coach, Mr. Westman, has said little, except to tell a reporter, in late March, that the team put him in a "very, very bad position." He refused to elaborate.
At that same news conference in February, Mr. Mathieson claimed that neither he nor any of the more than 40 board members and staff knew that Vandergunst was a convicted rapist.
Mr. Mathieson is also the mayor of Stratford. Last October, he won his fourth term by a landslide.
Mr. Mathieson isn't the only community leader connected to the Cullitons. His vice president is the former chief of the Stratford police. Another officer, also with the Stratford police, serves as the team's prevention services co-ordinator. A third cop, who works as a trainer for the team, is with the Ontario Provincial Police. The O.P.P. is the force that arrested and charged Mr. Vandergunst. All three have declined to be interviewed.
Mr. Mathieson assured fans and sponsors that his club will be open and responsive, promising to investigate how Mr. Vandergunst was allowed to keep playing. He has not reported on the status of the probe since he announced it more than three months ago.
Mr. Kennedy questioned the approach officials like Mr. Mathieson and his fellow board members are taking.
"What are we teaching the public by not having people own their mistakes or being held accountable," he asked.
Mr. Kennedy wondered if the people of Stratford are demanding answers.
"Maybe people need to start asking questions and not let up," he said.
Mr. Kennedy said he's not surprised some people in Stratford, especially Cullitons officials, have circled the wagons.
"We see this a lot," he said. "This really comes down to leadership."
Mr. Kennedy experienced a similar cone of silence. Days after Graham James was jailed for his crimes, a number of former players for the Swift Current team went public with shocking revelations that many senior officials with the team knew about the actions of the predator coach, but turned a blind eye.
Mr. Kennedy continues to keep an eye on the junior hockey team in the Saskatchewan city.
"If you look at Swift Current, what did they do in the last how many years? Really, they did nothing," Mr. Kennedy said. "The same people who ran the team when I was there are still there."
Mr. Kennedy now heads an organization called Respect Group Inc. One of its programs involves teaching parents, players, and coaches and officials ways to stop sexual abuse, bullying, and harassment.
Mr. Kennedy says his life's mission is to focus on finding solutions.
"This is the way I look at it," he said. "I can go out and scream and scratch and yank and fight and pull, or I can go out and educate [people] to be better, and give them the courage to speak up. To me, I think that that is our best defence."
Mr. Kennedy said the Cullitons and the people of Stratford have a chance to do something good in the wake of the cover-up.
"This is a great opportunity for the team to learn," he said. "It's a great opportunity for [Vandergunst] and the community to learn, too."
Mr. Kennedy believes the Cullitons should reach out to both the victim and her rapist.
"The team could be offering help to them," Mr. Kennedy said. "They shouldn't just forget about them."
Asked if he thought it was too late to teach the all-male executive for the Cullitons to break their silence, Mr. Kennedy said, "Sometimes we reach old boys who are willing to change.
"But I think it is the next generation that's more willing to make changes."
(Details about Sheldon Kennedy's Order of Canada honour may be found here. For more information about Respect Group Inc., click here.)